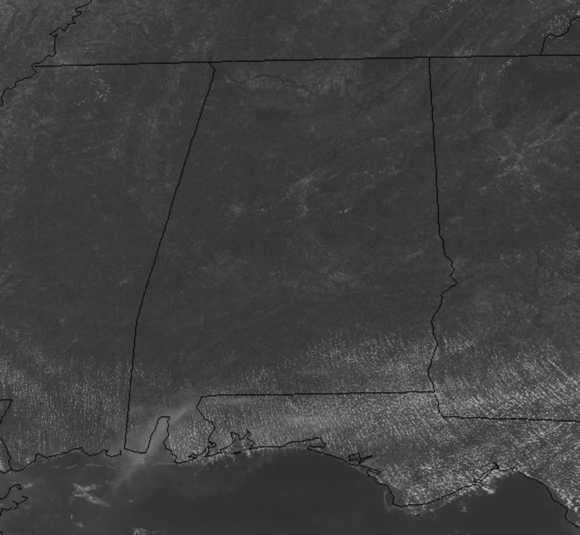 Plenty of sunshine across the Alabama landscape today and temperatures will be surging well into the 90s by the end of the day across all of Alabama. Even late this morning, we are seeing mid and upper 80s in most spots.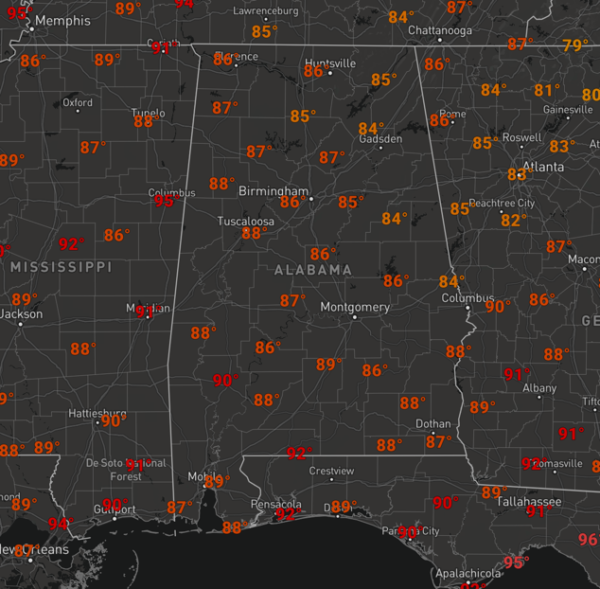 The air is a tad drier today compared to yesterday, so though heat index values will be around 100°, they should remain below the heat advisory criteria of 105° in Central Alabama. Showers and storms will be hard to come by today across the Alabama, but a rouge one or two cannot be completely ruled out somewhere this afternoon. We are watching development to our Northwest as several complexes of storms will be developing and diving towards the Southeast today and tonight, if these can hold together, some of these could make their way into the Northwest Alabama after midnight tonight, but again, most locations will remain dry today and tonight.
FOR TOMORROW: Showers and storms will be moving into Alabama tomorrow, and ahead of these storms, a hot, humid, unstable air mass will be in place, so strong storms are expect tomorrow and some of these could possibly be severe.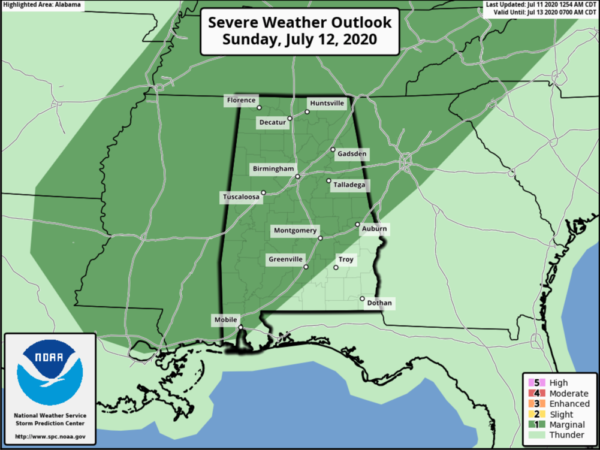 The SPC continues to have most of Alabama in a "marginal risk" (level 1/5) for this threat tomorrow afternoon and evening. Before the storms get going, expect a mix of sun and clouds with highs in the low 90s for most locations.
VERY HOT WEEK AEHAD: The upper-level ridge over the Plains strengthens this week and will set the stage for the hottest week of weather so far this year in Alabama. Expect partly cloudy days, with highs ranging from the low to upper 90s across the state, and yes it will feel hotter as heat index values will easily be over 100°. Monday and Tuesday look to remain dry as the ridge suppresses any convective development in Alabama. However, by the second half of the week, the ridge weakens a bit, which will allow for some heat-relief in the form widely-scattered afternoon and evening showers and thunderstorms. But, nothing too widespread, and unfortunately, the heat will be the big story.
TROPICS: Fay has become post-tropical and its remnants continue to push into southern Canada today. The rest of the Atlantic is quiet with no other tropical cyclone development expected the next five days.
BEACH FORECAST CENTER: Get the latest weather and rip current forecasts for the beaches from Fort Morgan to Panama City on our Beach Forecast Center page. There, you can select the forecast of the region that you are interested in visiting.
WORLD TEMPERATURE EXTREMES: Over the last 24 hours, the highest observation outside the U.S. was 122.5F at Omidieh, Iran. The lowest observation was -96.5F at Amundsen-Scott South Pole Station, Antarctica.
CONTIGUOUS TEMPERATURE EXTREMES: Over the last 24 hours, the highest observation was 120F Death Valley, CA. The lowest observation was 26F near Copper Basin, ID.
Category: Alabama's Weather, ALL POSTS
Ryan Stinnett
2020-07-11 12:27:02
Read more from source here…